Google searches related to the phrase "housing market crash" are up dramatically. People can sense the market is moving, and it is. Demand has plateaued as fewer homes are going under contract and closing. This shift indicates we are moving toward a more 'normal' market. If demand doesn't return soon, we may head into a strong buyer's market.
Here are some of the metrics we are tracking:
Mortgage and inflation rates started to ease in July
We are rapidly shifting from a strong seller's market toward a more balanced market
Multiple offers are less common, but homes that are priced right are still selling quickly
Price reductions are slowing as sellers get more serious about pricing competitively
On average, homes sold below list price for the first time since November 2020
Home prices have been slowly coming down since May. The median sales price in July was $515,000
Will Austin see a local housing market crash?
After two years of unprecedented growth for the Austin housing market, the rapid shift and cooling demand we saw this year as a result of rising rates and other factors have made many people begin to wonder if our local market is going to crash. As we head into August looking at the last few weeks, demand has plateaued as fewer homes are going under contract and closing. This shift in demand feels like we are currently in more of a soft landing state.
This period of comparable cooling still has our market experiencing double-digit appreciation compared to last year. We can't see into the future, but we can keep you informed with what experts are saying.
Fitch Ratings, one of the top three credit ranking agencies internationally, released a recent report that points to more price corrections as opposed to a crash.
According to the report, Fitch "expects that home price growth will continue to grow, albeit more slowly, for 2ndQuarter 2022 due to the home price data lag and mortgage lock-in effect."
"Despite the prospects of a home price correction, Fitch deems a housing market crash akin to the Great Financial Crisis highly unlikely," said the report. "The main reasons are because housing inventory is still constrained, and existing homeowners who have benefited from low mortgage rates are unlikely to sell their properties."
For another perspective, JPMorgan CEO Jamie Dimon predicted the chance for the U.S. economy to have a "soft landing" to be around 10% and the probability of a "harder landing" or "mild recession" to be closer to 20-30%. There's also a 20-30% chance of a "harder recession" and a 20-30% chance of "something worse," Dimon said, according to Business Insider.
July 2022 Austin Housing Market Statistics
According to recent data from the Austin Board of REALTORS®:
New listings decreased 1% to 5,142 in July compared to July 2021, and decreased compared to 6,160 new listings in June 2022
Active listings rose 167% to 8,709 compared to July 2021 and increased 22% as compared to June 2022
Months of housing inventory increased to 2.7 months compared to July 2021 and increased from June 2022 which was at 2.1 months
Pending sales declined 25% to 2,774 transactions as compared to July 2021
Home sales declined 28% year over year to 2,849 as compared to July 2021
The median sales price rose 8% to $515,000 over July 2021, but dipped compared to $537,475 in June 2022
Homes still sold quickly and spent an average of 22 days on the market, 10 more days than June 2021.
This was the first month since November 2020 that the sold price vs. original listing price fell below 100% for an average of 98.8%
"The Austin housing market witnessed two years of increased demand and skyrocketing price appreciation unlike anything we've seen previously," says Realty Austin Head of Sales Jolene Weinstein. "This explains how while home prices are appreciating compared to last year, the rate of appreciation is still decreasing. It would not be sustainable for that rate to continue to increase in this way."
Is housing inventory continuing to build?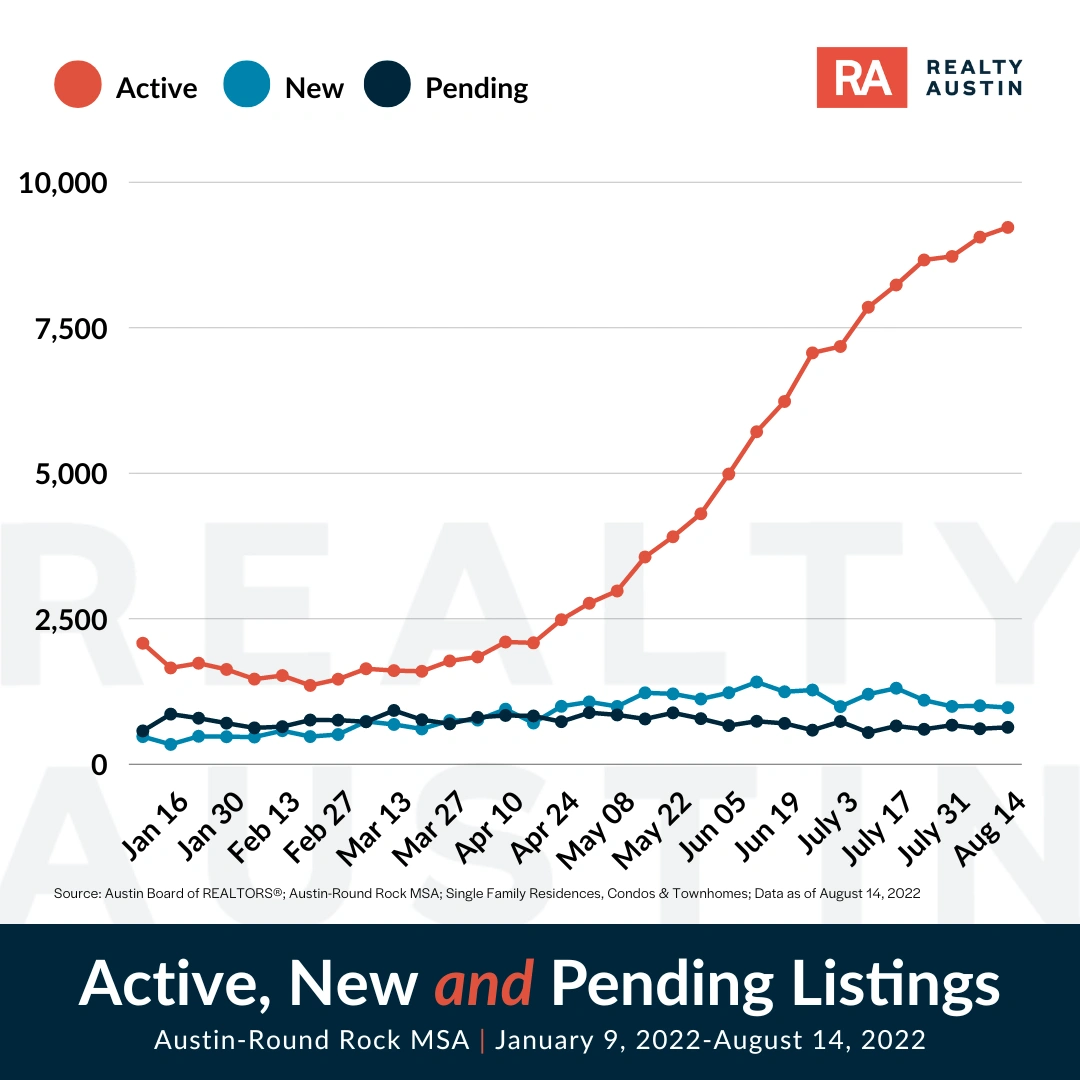 Yes! We're tracking active, new, and pending listings weekly and sharing them across our social media channels to keep you informed. In 2022, we've seen the supply of available housing continue to build. After the high demand and low inventory levels Austin experienced during the pandemic, this increase in inventory is a sign that we are moving toward a more balanced market.
Additionally, it's important to understand why inventory is building. Active listings continue to increase for a number of reasons. It's not that fewer people listed their homes in July, but fewer homes are going under contract and closing.
Are home prices dropping in Austin?
After a period of explosive growth, when it comes to median sales price for homes in the Austin housing market combined with rising mortgage rates and inflation, it makes sense that buyers want to know if home prices will come down. Likewise, sellers who witnessed homes go for over the asking price and have multiple bids want to know if they missed the chance to sell at the top of the market.
When compared month to month this year, the answer is yes. The median sales price leveled off at $550,000 in April and May as buyers had to rethink their next steps when faced with a shifting market. But, the housing market crash that many expected hasn't happened.
Instead, the median sales price has started to drop in June and July, but it isn't a dramatic drop. On top of that, those numbers appreciated compared to the same time in 2021. While we might not see that level of appreciation that houses in Austin experienced the last two years, home prices are still higher than if you bought or sold this time last year.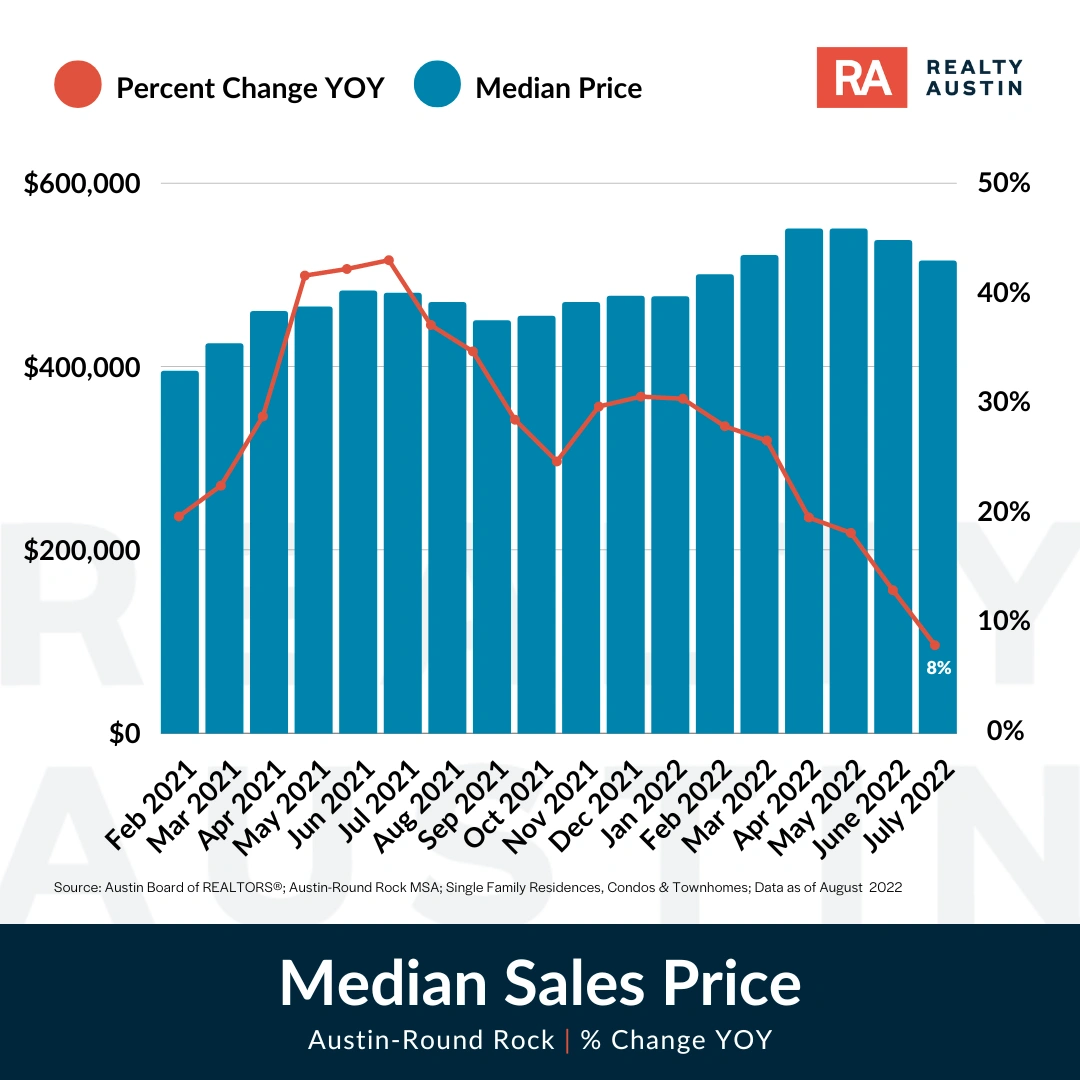 Are we seeing more price reductions?
Weekly they are reducing as sellers get more focused on pricing their homes appropriately. They are higher than previous years, meaning buyers will find less competition and have an opportunity to find properties that have gone down in price from the time they were listed. You can search for specific properties with price reductions here.
Is demand still high for homes in Austin?
The increase in mortgage rates and inflation had many buyers hitting pause to regroup and decide when they wanted to move forward with buying a home. As a brokerage, some of the data points we study are months of inventory and the number of days on the market (DOM) to inform our understanding of demand. When these numbers increase, it is a sign that demand is weakening. This isn't necessarily a bad thing, it just means that our market is moving more toward a buyer's market.
Additionally, the sold price compared to the original listing price dropped in July compared to June, coming in at 98.8%. This is the first time since November 2020 that it has happened. July was also the first month since June 2020 that the percent of home price growth was in the single digits, coming in at 8% compared to July 2021.
These points illustrate that there will likely be fewer bidding wars raising offers over asking price, so it's important to work with an expert to price your home appropriately for the largest return.
In July, the Austin-Round Rock area's months of inventory rose to 2.7, and the days on market rose to 22. That said, in July and moving into the beginning of August, we're seeing a dip in some of those factors that caused buyers to pull back.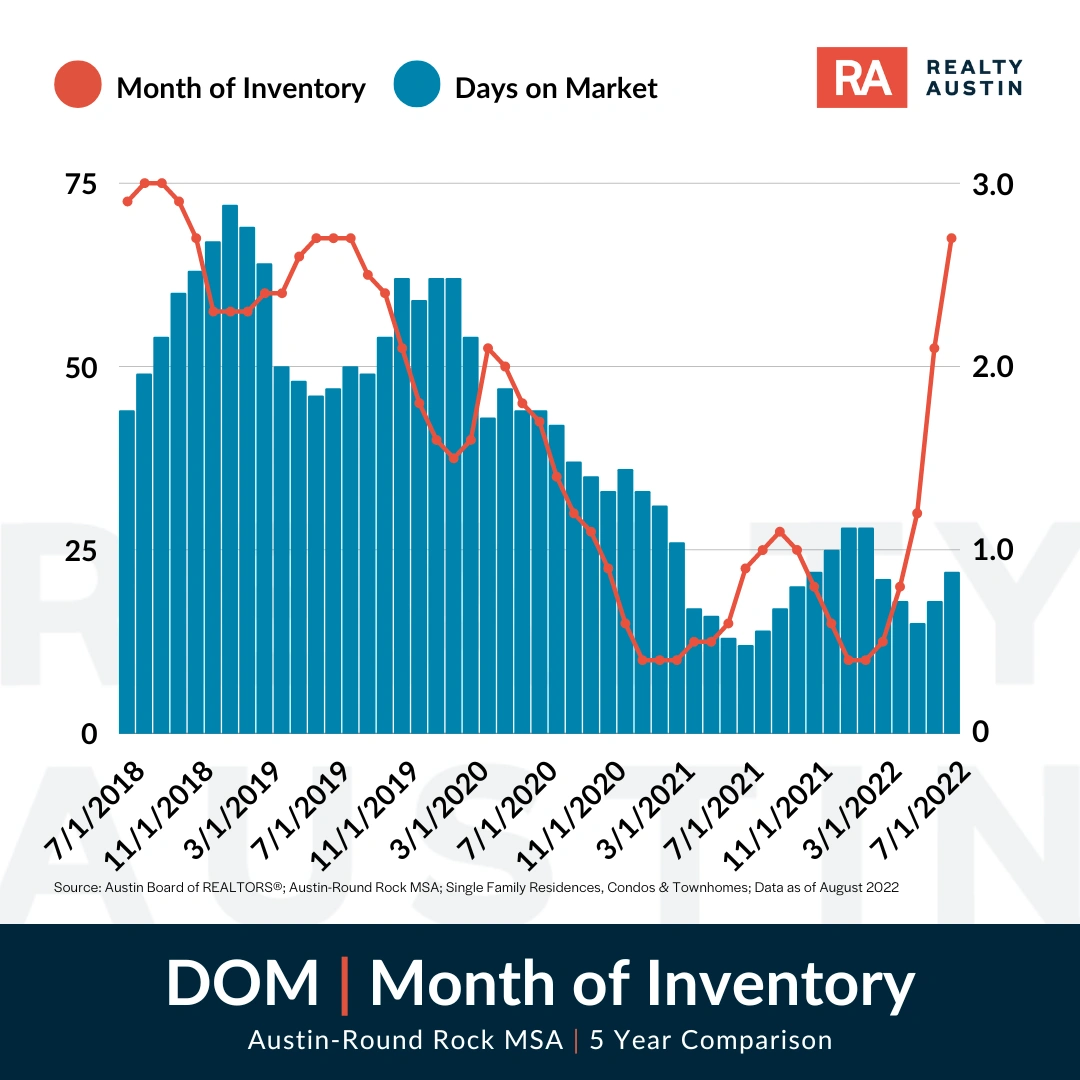 What's happening with mortgage rates?
According to The Business Journals, housing economists predict that mortgage interest rates are likely to level off despite the Federal Reserve's interest-rate hikes. We're seeing that this is true already. According to The Washington Post, mortgage rates declined in July. Though they are still high compared to this time last year, those rates during the pandemic were artificially low.
Additionally, The New York Times reported that inflation moderated in July, which caused stocks to rise and the Nasdaq Composite Index moved back into bull territory and out of the bear market that it has been in.
Is Austin a buyer's market?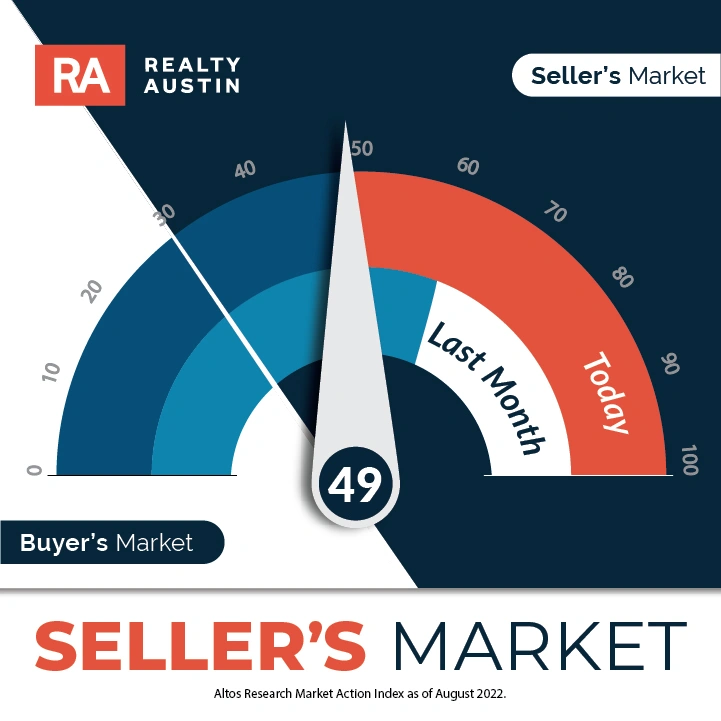 Austin's housing market experienced a strong seller's market during the majority of the pandemic, but we're rapidly moving toward a buyer's market. When we released our Midyear Market Update, the Market Action Index was at 59 compared to today at 49. This is good news for buyers who have been waiting for a more balanced market to act, and you'll likely find you have more negotiating room.
If you want to take advantage of mortgage rates and inflation moderating, we spoke to financial experts about a variety of creative financing options that you may not have considered to make homeownership a reality.
No matter where you are in the home buying or selling journey, working with an experienced local agent as the market changes is the best way to ensure you're informed and ready to act. As Central Texas' #1 independent real estate brokerage, we are constantly studying market trends to help our clients make informed decisions, build their wealth, an