Whether you are a current or prospective homeowner or renter, and regardless if you are considering buying or selling, it is important to know how the current state of the market impacts your daily decisions while living in Austin.
We understand the importance of providing you with a transparent outlook on the health of the local market so that you can make informed real estate-related decisions. Our monthly blog is here to provide you with the data to create clarity. Email us with the questions on your mind to include in a future newsletter article.
After a summer of ups and downs, the fixed rate on a 30-year mortgage has surpassed 6% for the first time since 2008, and the Fed continues to be aggressive in raising rates to fight inflation
While we are still technically in a seller's market, the scales are already tipping in favor of buyers. What this means for you:
Homes are selling at or just below asking price on average
Average home sale prices have been decreasing since June
Available home inventory has increased 170% year over year
Sellers are accepting more buyer-friendly terms, including contingencies
Builders now have inventory and are negotiating with buyers
As a result, some buyers are now taking advantage of alternative financing and down payment assistance programs to get lower monthly payments. Meanwhile, sellers are beginning to have more realistic expectations about their home's value. So what's in store for our local market as we head into the fall? Continue reading our blog below to learn more
| | | |
| --- | --- | --- |
| | August 2022 Austin Housing Market Statistics | |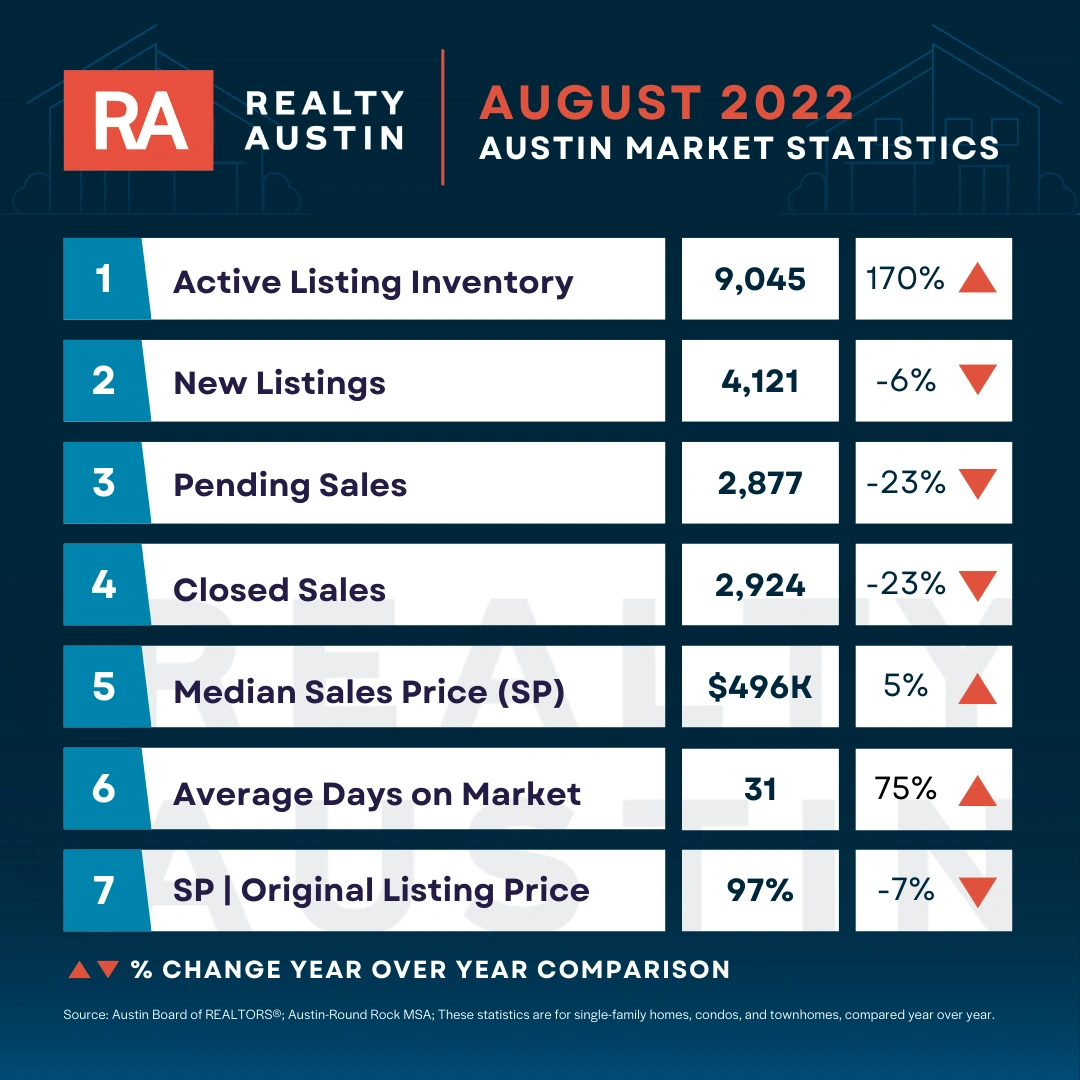 Inventory Moderates
New listings for August were down 6% over August of 2021, and they have trended down from July by 22%. This is in line with what we typically see seasonally, which is new listing inventory tapering down in August through the end of the year. The more market conditions favor buyers, the more sellers may become reluctant to put their homes on the market.
Active inventory is up 170% over August of last year, but it has been trending relatively flat week over week in August and September as the number of new listings slows down.
With homeowners in their best shape ever after a record two years of appreciation and many locked in at low-interest rates, August may be the peak of the active inventory, so buyers wanting a large selection of options should act now.
August hit 2.9 months of inventory, an increase over August of 2021 of 2 months, but more in line with pre-pandemic August levels of 3 months in August of 2017-2019.
Pending Sales Down From 2021, but Hold Steady 3rd Month in a Row
Pending sales were down 23% in August of 2022 over August of 2021.
While pending sales slowed more dramatically from May 2022 to June 2022, they have held steady for the past three months in 2022 (up 4% from July to August 2022).
With rates continuing to rise, we may see more than the typical seasonal cooling in the fall and winter.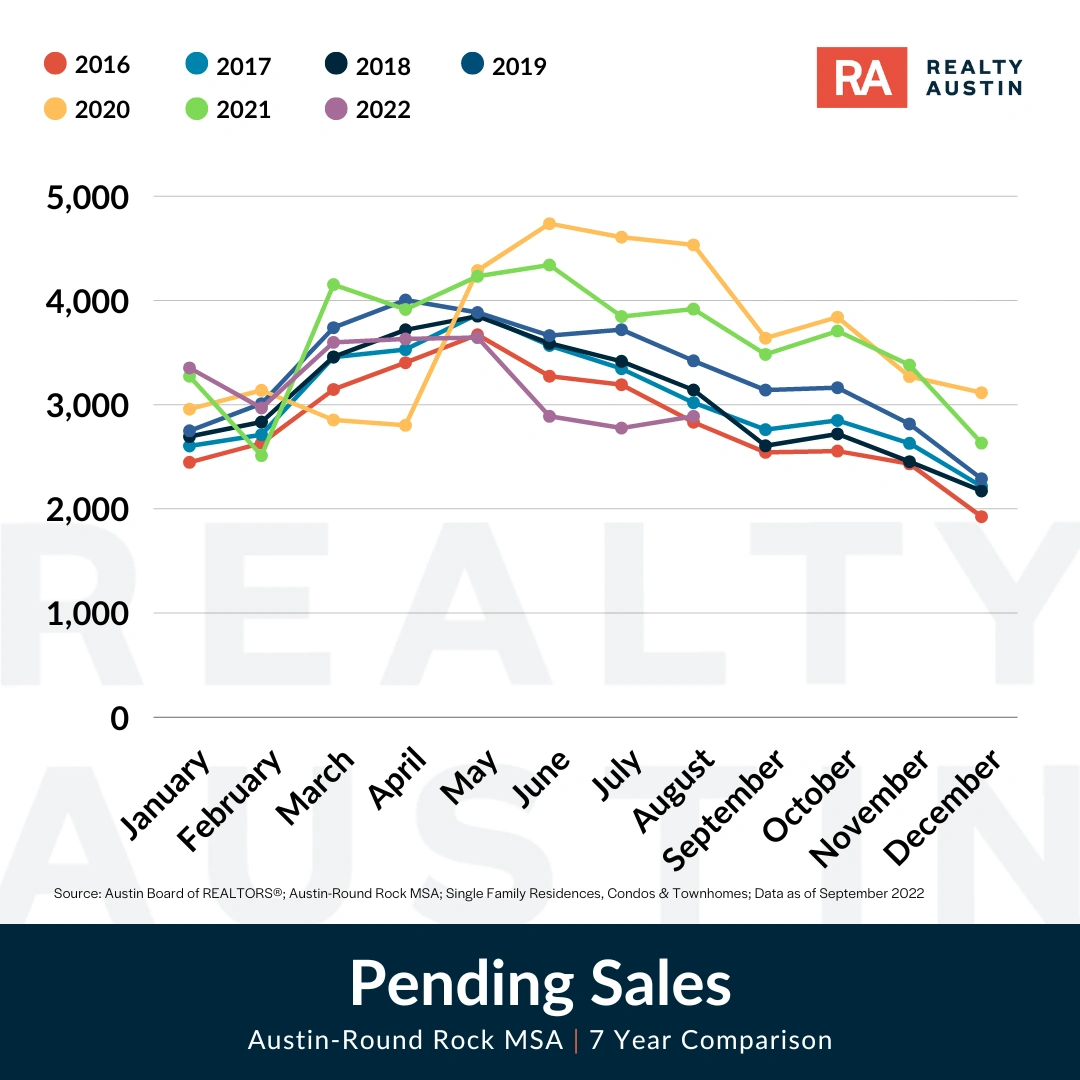 Are home prices dropping?
You may be wondering if home prices are dropping. The median sales price has trended down month over month since June of this year. We've moved from a 43% year over year rate of appreciation to 5% year over year appreciation rate, and are approaching the depreciation zone.
Price Reductions:
Median sales prices are up 5% over August of 2021 and down 4% over last month (July 2022).
This is the fourth month in a row of median price declines from the peak of $550,000 in May 2022.
The rate of home price appreciation has been decelerating every month of this year.
Median sales prices dip seasonally in the fall months, and the continued rise in interest rates will likely put continued downward pressure on prices.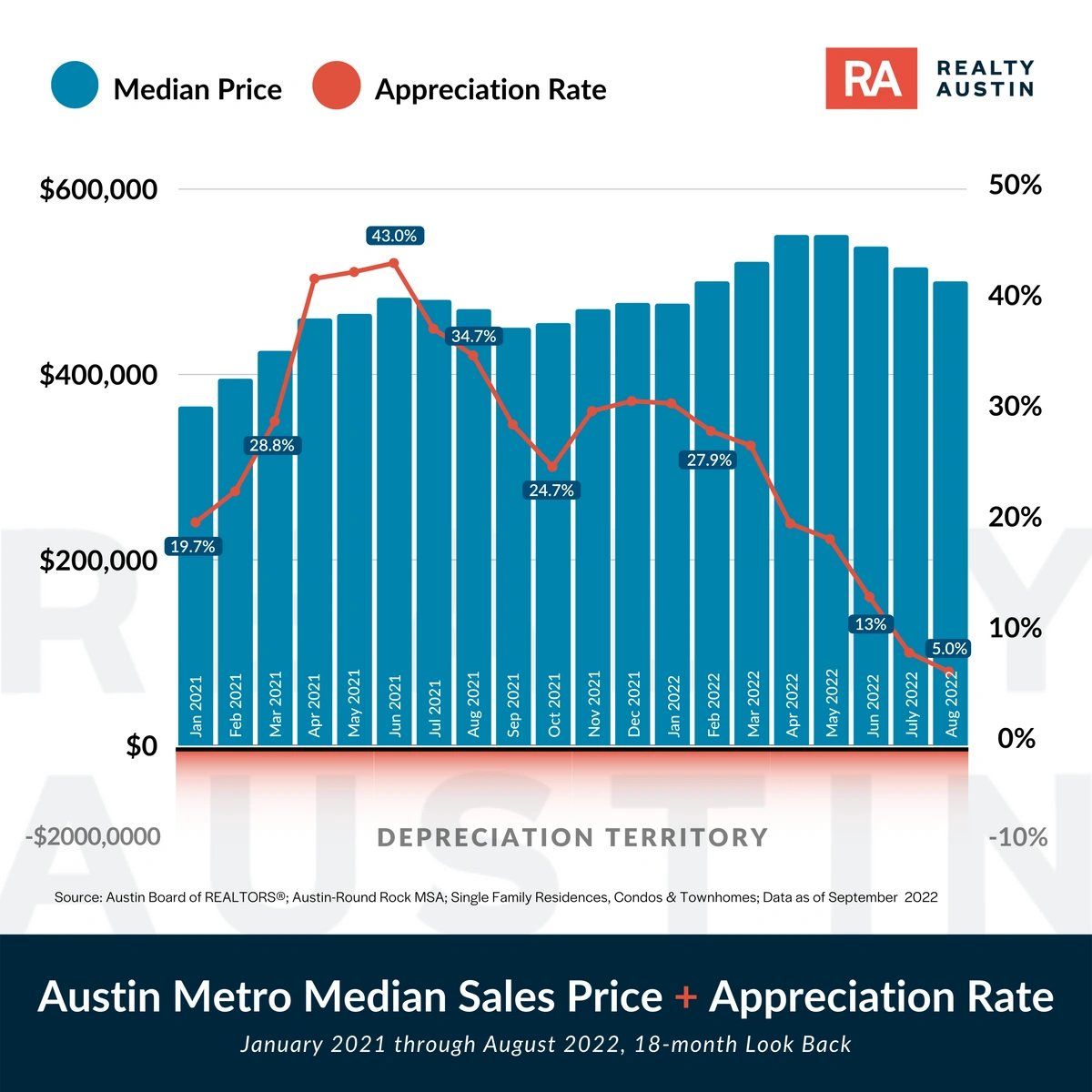 Market Conditions Begin to Favor Buyers
We are seeing a much more moderate seller's market than we've seen in the last two years.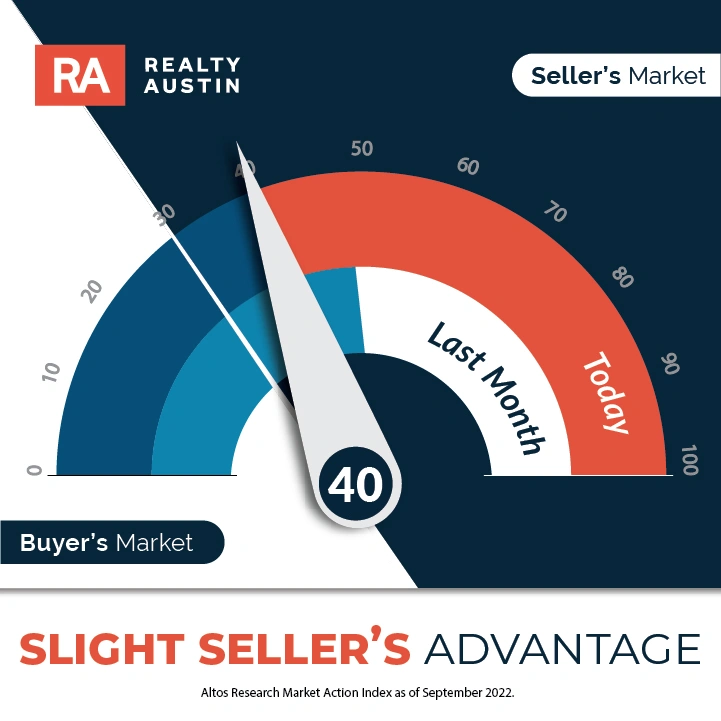 Good news for buyers! Outlined below are four ways that illustrate how the scales are tipping in buyers' favor in the Austin housing market:
1: On Average, Sale Price as a Percent of Original List Price is Below 100%
The pandemic set off an abnormally strong seller's market where the list price was the floor of the negotiation, and multiple offers drove sale prices up to 104% of the original listing price on average in August of 2021. As the market adjusts, list prices transition back to being the ceiling of the negotiations where on average, sold prices are 97% of the original list price, closer to the 92% we saw in a pre-pandemic August of 2019.
2: Contingencies Return
The National Association of REALTORS® shows the percentage of buyers waiving their home inspection and appraisal is declining and REALTOR.com confirms with their August study that more sellers are accepting offers that include these contingencies:
95% of sellers reported buyers requested a home inspection
67% of sellers negotiated with buyers on repairs as a result of the inspection findings
3: Sellers Are Accepting Buyer-Friendly Terms
After an extremely competitive housing market for the past two years, survey data suggests that negotiation is back on the table – for both price and contract terms. In a recent article by REALTOR.com, 92% of all recent sellers accepted some buyer-friendly terms:
32% dropped the price because the home didn't meet the appraisal
32% paid for some or all of the buyer's closing costs
30% had to be flexible on the ideal timeline for closing
29% paid for repairs to the home after the appraisal
4: Increasing Days on the Market (DOM):
Homes being on the market a little longer gives buyers more time to negotiate. With inventory building up and days on market increasing, sellers have more competition, and buyers have more options.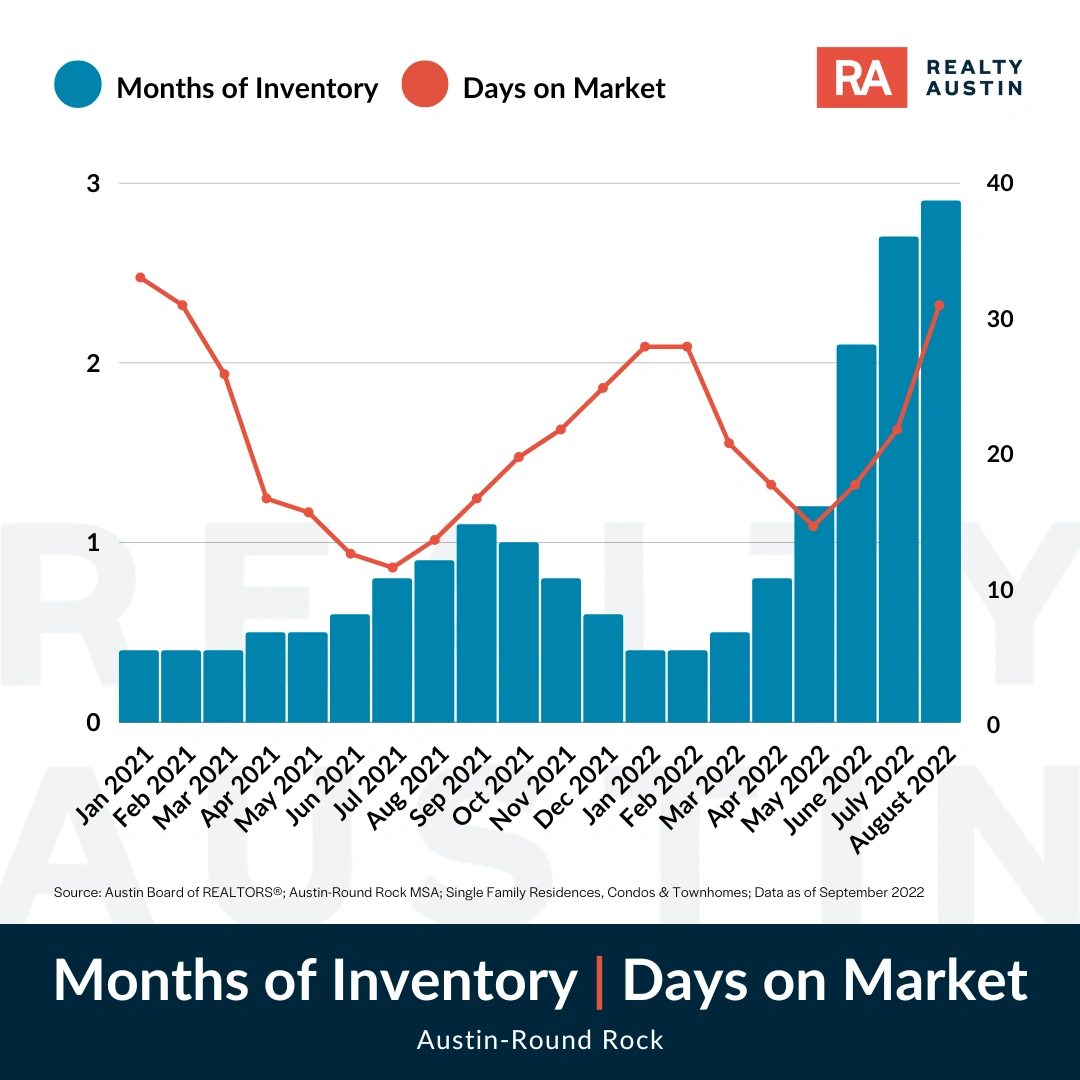 Pro Tip: If you've been searching for a home and have found yourself stepping out of the process because you're worried about rising costs, connect with a trusted real estate expert. Having a team of local advisors on your side may be just what you need to guide your search in a new, more affordable direction.
Rates Surge Past 6%, a 14-Year High as the Battle Against Inflation Continues
After a summer of ups and downs, the benchmark fixed rate on 30-year mortgages surpassed 6 percent in September, its highest level since November 2008. "The economy will slow faster than inflation, so more yo-yo action should be expected in September," Bankrate Chief Financial Analyst Greg McBride says.
Bloomberg reported inflation remains broad-based and problematic with, "the consumer price index increasing 0.1% from July, after no change in the prior month. From a year earlier, prices climbed 8.3%, a slight deceleration, largely due to recent declines in gasoline prices." Chair Jerome Powell said last week, "The central bank will act 'forthrightly' to achieve price stability, and policymakers voice support for another 75 basis-point rate hike." Consumers should expect a federal reserve interest rate hike in the coming weeks.
Pro Tip: Here are some things to consider to help you navigate the housing market and this rising rate environment to make your homeownership goals a reality:
Remember that it's more important than ever to compare rates before selecting a lender.
No, The Market is Not Crashing
Mortgage Lending Standards Tighten - Lending standards are, and will continue to be, under control. Many of the risky products leading to the crash are no longer available.
Foreclosure Activity is Low - This is a result of better-qualified borrowers. According to Attom Data, "It's important to note that many of the foreclosures starts we're seeing today — in fact, much of the overall foreclosure activity we're seeing right now — is on loans that were either already in foreclosure or were more than 120 days delinquent prior to the pandemic," said Rick Sharga, executive vice president of market intelligence at ATTOM. "Many of these loans were protected by the government's foreclosure moratorium, or they would have already been foreclosed on two years ago. There's very little delinquency or default activity that's truly new in the numbers we're tracking."
Low Unemployment - The Austin, TX, unemployment rate is at 2.90% for July, compared to 2.90% in June and 3.80% last year. This is lower than the long-term average of 4.30%. We are back to pre-pandemic UI levels, with the job market in Texas seeing record growth for the ninth month in a row.
Low Inventory - Sellers are sitting on solid ground with lots of home equity due to the rapid price appreciation over the past two years. Inventory rose due to rising interest rates and curtailed buyer demand, but sellers are not panic selling. Months of inventory are back up to pre-pandemic levels but still represent a balanced market.
In a market that can feel so puzzling, it's important to work with experts that stay on top of the data and learn as quickly as possible to help buyers and sellers make informed decisions.
Follow us on social media for breaking market updates, graphics, videos, and more @realtyaustin, and subscribe to our market newsletter by clicking sign up in the top right corner of our website.